Diagnostic Manual – Intellectual Disability (DM-ID-2) A Textbook of Diagnosis of Mental Disorders in Persons with Intellectual Disability
Edited by: Robert J. Fletcher, DSW, ACSW, NADD-CC, Chief Editor
Jarrett Barnhill, MD, DLFAPA, FAACAP, and
Sally-Ann Cooper, MD, FRCPscyh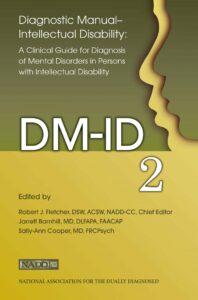 Improved outcomes for individuals with co-occurring intellectual/developmental disability (IDD) and mental illness depends upon effective psychiatric treatment. Effective treatment requires an accurate psychiatric diagnosis. Obtaining that accurate diagnosis for individuals with IDD has been, and remains, very challenging. This book was written to address this challenge.
More than 100 experts from around the world have now updated the DM-ID to accompany the DSM-5. The DM-ID-2 was developed to facilitate an accurate psychiatric diagnosis in persons who have intellectual disabilities and to provide a thorough discussion of the issues involved in reaching an accurate diagnosis.
The DM-ID-2 provides state-of-the-art information concerning mental disorders in persons with intellectual disabilities. Grounded in evidence based methods and supported by the expert-consensus model, DM-ID-2 offers a broad examination of the issues involved in applying diagnostic criteria for psychiatric disorders to persons with intellectual disabilities. The DM-ID-2 is an essential resource for every clinician who works with individuals with a dual diagnosis (IDD/MI).